Campus
The campus is 3 acres of land beside NH 66. The main building block of the Institute is a three-storeyed building located in 3 acres of land beside NH 66. This institute is equipped with a three storeyed building. The Ground floor consists of Electronics Mechanic Lab, Interaction Rooms, Architectural Draughtsman Drawing Hall, Library Reading Room , a well-equipped Conference Hall and HOO's Room.  RDSDE Office is functioning in the First floor of this building. NSTI(W), Administrative Office, Main Store of the institute, Interaction Rooms  , CAD Studio and Computer Labs of Various trades  are also functioning in this floor. Second floor consists of Many Interaction Rooms and Labs such as Dress Making Computer Lab, Dress Making Sewing and Cutting Room. Toilets facilities are available in all the floors .  A 50 bedded hostel, 24 hours security is there in the institute.  wide range of latest equipments for imparting training activities, dedicated trainers, furnitures, tools and other infrastructures are also available.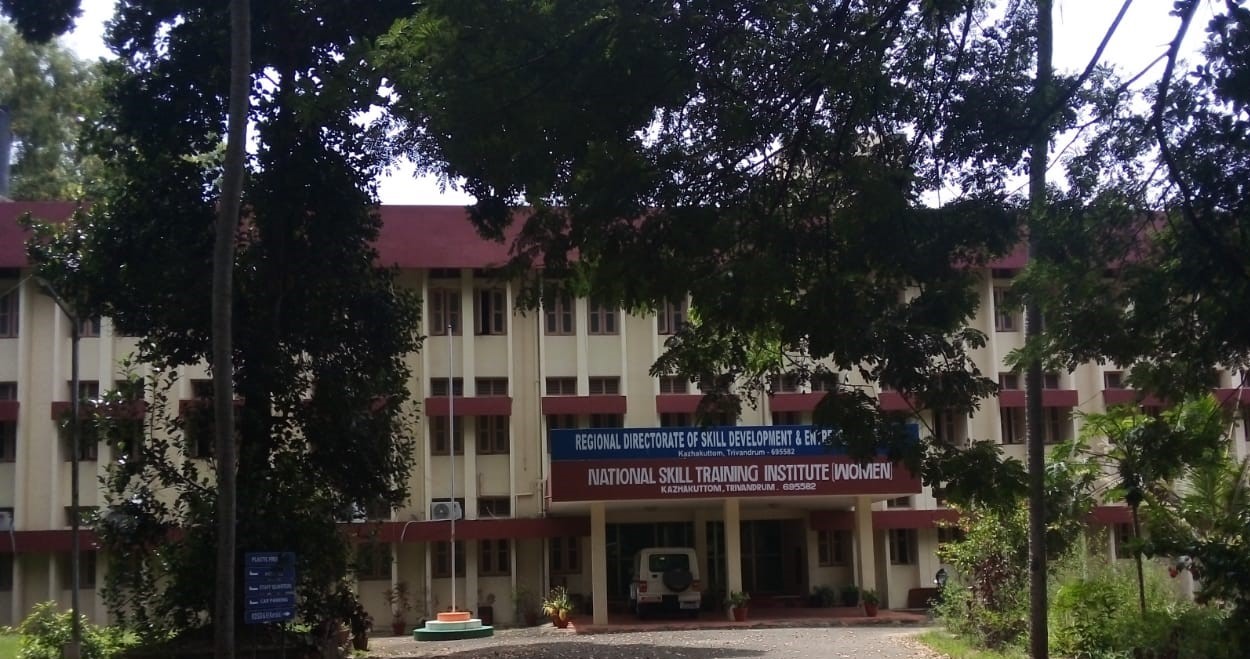 Entrance Lobby
The Institute entrance lobby is furnished with coir tiles and seating facilities for visitors. Closed circuit TV is installed at the lobby to display the important events.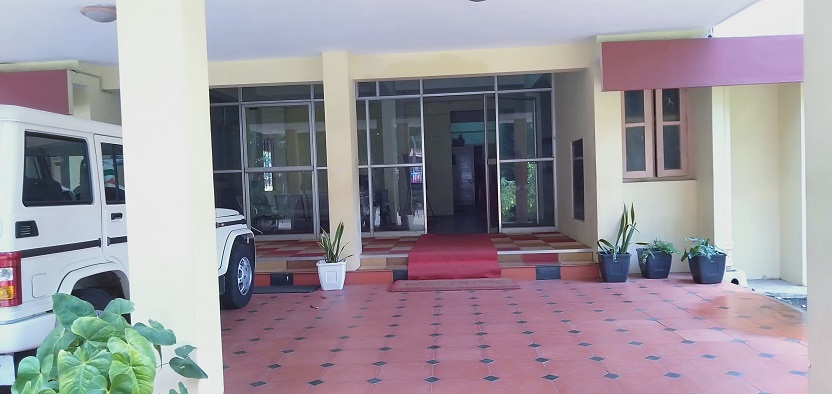 Conference Hall
The spacious conference hall at the ground floor is furnished with vitrified tile flooring, acoustical ceiling with recessed lighting with separate glazed doors for exit and entry. The room is well equipped with advanced technology Interactive TV cum projector suitable for Video conferencing and uninterrupted power supply,Branded seating arrangement which can accommodate 100 persons at a time. Venetian blinds are provided for window openings. Sufficient number of Air conditioners are provided in the conference room for air refreshment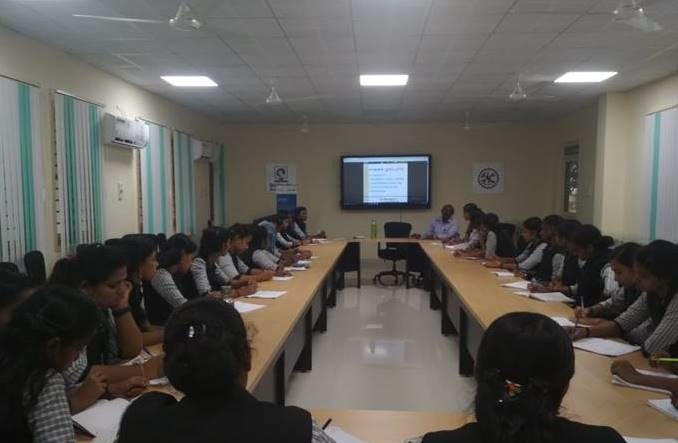 Courtyard Auditorium
The internal open courtyard serves as the meeting place of programs or workshops or seminars with antiskid flooring. Audio facilities and advanced lecture stand with pen drive facilities are arranged.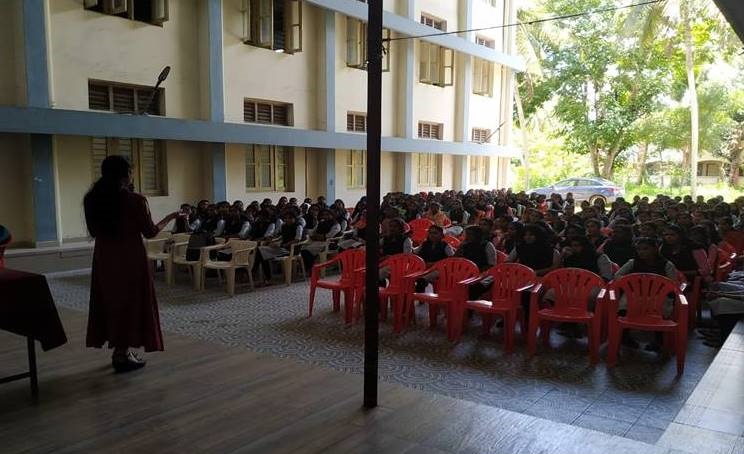 Library
Library room at the ground floor is accommodating with seating capacity of 30 trainees at a time.Textbooks of  various trades and NSQF Level books from nimi is  also procured for library.Spacious table with chairs are arranged for library hours.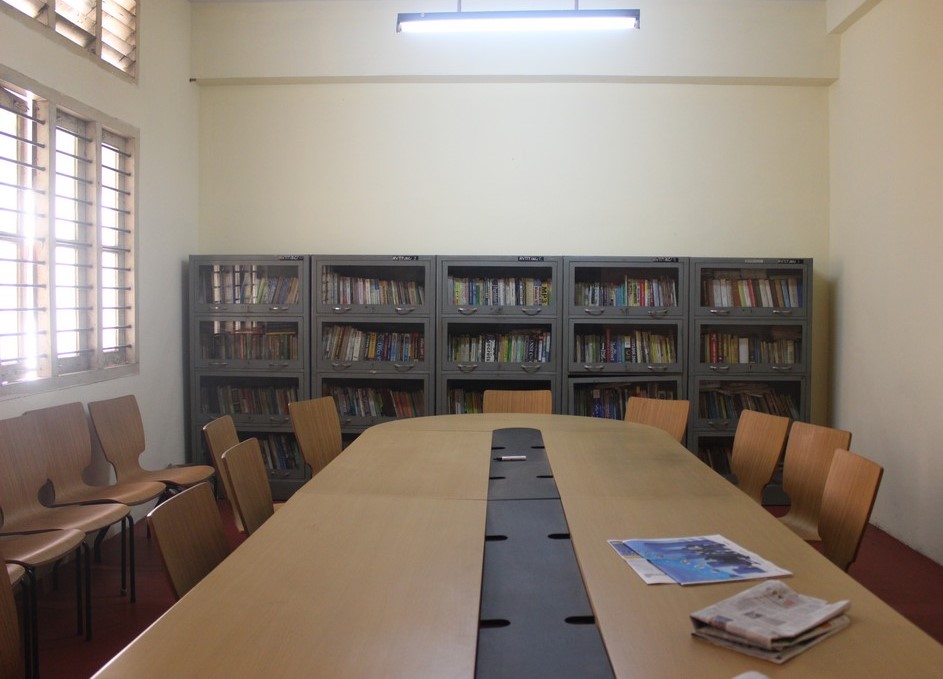 Interaction Rooms
     Interaction rooms are available in all floors for conducting  theory classes as per prescribed timetable
                                 Interaction Room 1

 

                               Interaction Room 2

 
Drawing Hall
Drawing hall is located at the ground hall which accommodates drawing tables with drafting stools as per the standard list Also advanced glazed drafting tables with cushioned revolving chairs are available in the Institute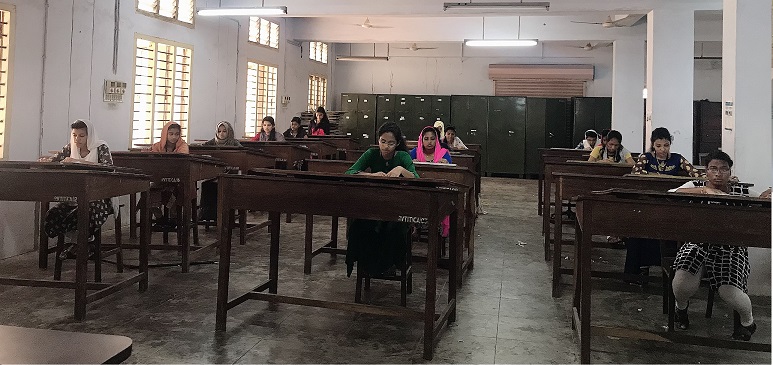 Gymkhana Club
A Gymkhana Club is functioning in this institute. It aims at promoting and developing sports, social and cultural activities of trainees. Many recreational facilities are providing to the trainees through this club. Motivational seminars and Yoga Programmes  were conducted for the trainees. Gymkhana Club functions were managed by a Committee which includes Head of Office(Principal) as Chairman, Gymkhana Convener (one staff member) and Student's Representatives.
Recreational Items Available 
 

               Carrom Board

 


               Chess Board

 


             Ring Ball

 

            Tennis Net, Bat and Cocks


              Skipping Rope
Motivational Seminars and Yoga Programmes 
          Yoga

 

  Occupational Safety  Awareness  Programme 

 
Hostel
In NSTI(W)  a 50 bedded hostel is there. Ground  floor and first floor consists of 16 rooms, 6 baths, 9 toilets, in addition to this a 2 bedded  guest room with attached toilet and a 3 bedded Sick room with attached toilet is there , A full equipped kitchen and Mess hall is there . 24 hours security, full-fledged and dedicated trainers, Furnitures, tools and other infrastructure also. For recreational activities of the trainees  game items were also provided in the Hostel.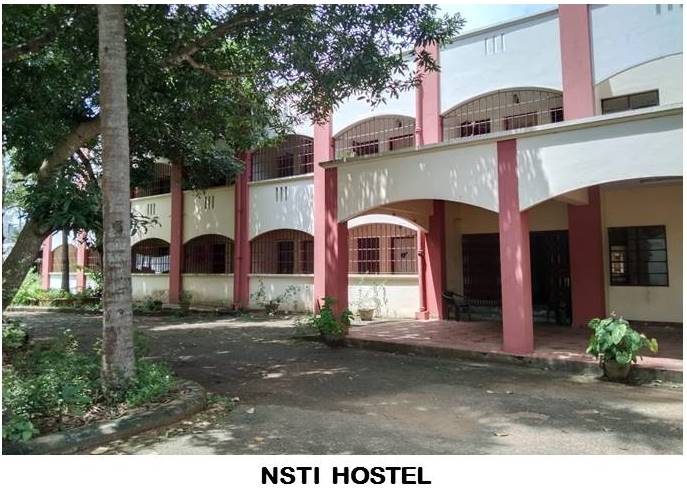 Staff Accommodation
The construction of staff Quarters by CPWD of Type II, Type III with a  3 storeyed block and Type IV as a separate block is completed  in the campus.